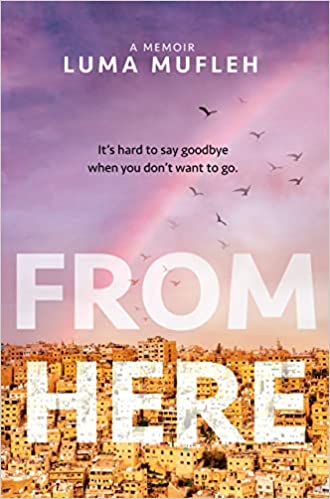 ABOUT FROM HERE
In her coming-of-age memoir, refugee advocate Luma Mufleh writes of her tumultuous journey to reconcile her identity as a gay Muslim woman and a proud Arab-turned-American refugee.
With no word for "gay" in Arabic, Luma may not have known what to call the feelings she had growing up in Jordan during the 1980s, but she knew well enough to keep them secret. It was clear that not only would her family have trouble accepting her, but trapped in a conservative religious society, she could've also been killed if anyone discovered her sexuality. Luma spent her teenage years increasingly desperate to find a way out, and finally found one when she was accepted into college in the United States. Once there, Luma begins the ago­nizing process of applying for political asylum, which ensures her safety—but causes her family to break ties with her.
Becoming a refugee in America is a rude awakening, and Luma must rely on the grace of friends and strangers alike as she builds a new life and finally embraces her full self. Slowly, she's able to forge a new path forward with both her biological and chosen families, eventually founding Fugees Family, a nonprofit dedicated to the education and support of refu­gee children in the United States.
As hopeful as it is heartrending, From Here is a coming-of-age memoir about one young woman's search for belonging and the many meanings of home for those who must leave theirs.
ABOUT LUMA MUFLEH
Luma Mufleh is a Syrian/Jordanian entrepreneur, coach, and thought leader in refugee and English Language Learner education. The daughter and granddaughter of Syrian refugees, Luma grew up in Amman, Jordan, where she was one of the only Arab students in her class at an American school, and one of the only girls who played on her soccer team. As a young adult in a country where being gay was considered a crime, Luma came out to her parents and was disowned. In 1993, she came to the United States to attend Smith College and graduated with a B.A. in Anthropology in 1997. Granted asylum in the US, Luma navigated the broken immigration system to build a life for herself — opening a coffee shop and coaching soccer. In 2006, she founded Fugees Family, the only network of schools in the U.S. dedicated to refugee and immigrant education.
Luma is empowering refugee children to use their voices to reclaim and tell their own stories – shifting the narrative around refugees away from the current fear-mongering frame to one of courage, resilience, and creative potential.
Luma completed the Executive Program in Social Entrepreneurship at the Stanford Graduate School of Business. In 2019, Luma was named an Emerson Collective Dial Fellow and a Manhattan Institute Civil Society Fellow.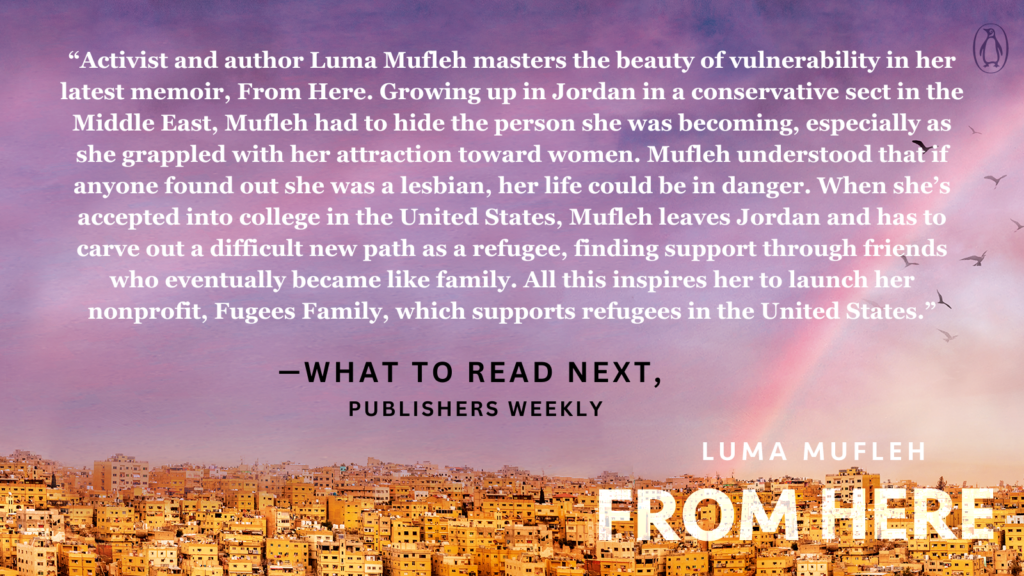 Reviews
"A powerful, honest account of an activist's experiences of being gay in a culture she loves but in which it's hard to see a place for herself. . . Mufleh's raw descriptions of finding her place in the world are relatable: Questions of choosing between living your truth or your family's will speak to readers of many backgrounds. . . Mufleh's journey shows that acceptance and reconciliation are possible and that those we love can grow and learn. . . A poignant glimpse into human imperfections and the struggle to find one's place in the world." —Kirkus Reviews, starred review
"This affecting memoir by refugee advocate Mufleh (Learning America) chronicles her internal struggle to reconcile her identity as a gay Arab Muslim woman. Via clear-eyed prose…this poignant reflection on choice, family, and living one's truth provides insight into Mufleh's relationship with her heritage, and how these experiences helped shape her identity and advocacy work."—Publishers Weekly, starred review
"Mufleh details fears Arab women constantly encounter…[s]he methodically shares her struggles with coming out to her family and coming to terms with sexual abuse. Readers will admire Mufleh's courage to fight for her own rights and her dedication to helping others…This story is a reminder that we have the right to live how we want and love who we want." —Booklist
"Activist and author Luma Mufleh masters the beauty of vulnerability in her latest memoir, From Here. Growing up in Jordan … Mufleh had to hide the person she was becoming, especially as she grappled with her attraction toward women. Mufleh understood that if anyone found out she was a lesbian, her life could be in danger. When she's accepted into college in the United States, Mufleh leaves Jordan and has to carve out a difficult new path as a refugee, finding support through friends who eventually became like family." —Shondaland.com
"Interesting, well written. I enjoyed hearing about Mufleh's childhood- her connection to King Hussein – the way homosexuality is treated in her culture is eye opening."
Tina, 3/27/23, Goodreads.com
"5.5⭐️⭐️beautiful, through and through. a poignant memoir with a sure voice and true talent for storytelling. i would give this book 7 stars if i could. thanks to penguin teen random house publishers for sending me this arc!!!!"
kennedibutwordy, 3/1/23, Goodreads.com
"Beautifully told. Raw and important."
Karen Meier, 5/8/23, Goodreads.com
"Mufleh's story is one that is unique to her individual experience, yet every reader can find a commonality– a time they struggled to feel accepted, a time they felt low and isolated, a time they found themselves at the expenses of losing another part of themselves. Her writing is captivating and quick to read. You want to see her figure it out, have it all, and win…and that she does in her own way."
E., 5/2/23, Goodreads.com
"This is the second memoir by a lesbian Muslim from the Middle East this year! I think what sets this one apart is that Luma was born in the 70s and grew up in the 80s, before the Gulf War and War on Terror. She is also originally from an affluent and wealthy family. Her grandfather was an advisor to the king, her family name carried a lot of weight, and she met the king and prince of Jordan many times (the prince went to the same school as she did!)
Mostly this is a coming of age from a young Muslim girl in Jordan and her family dynamic. In the 90s she goes to university in the United States and before she has to return home, makes the decision to apply for asylum without telling her parents. The book is written to explain to her own young children with her Jewish American wife why their grandparents don't have much to do with them.
Her story is lovely. I think the only thing that kind of rubbed me the wrong way was calling it the LGB club. I know that that's what it was called in the 90s when this book takes place, but surely you could call it "the LGBTQ club, then known just as LGB" or something. She calls it the LGB club many times and it kinda felt weird."
Lellie Reads, 4/26/23, Goodreads.com
"A beautifully written mémoire."
Kim Stock, 5/4/23, Goodreads.com
"This book was equal parts heartwarming and heart wrenching! In her coming-of-age memoir, refugee advocate Luma Mufleh writes of her tumultuous journey to reconcile her identity as a gay Muslim woman and a proud Arab-turned-American refugee.
Living in a tight knit religious community myself I resonated a lot with Luma's sexual identity/self love journey. I really appreciated how easy this book was to read but was still completely impactful!
Highly recommend this book to everyone! Thank you so much to Penguin Teen for giving me an ARC in exchange for an honest review!"
Shira, 5/6/2023, Goodreads.com
"A riveting coming-of-age memoir.
Luma Mufleh is a compassionate storyteller & paints a full picture of her young adult life: growing up amidst a big family in Jordan, grappling with her identity without access to the language to describe her feelings, going to college and discovering herself in the US but feeling torn between worlds, fighting for political asylum and giving up all she has ever known, and eventually forging a future without her loved ones by her side.
The writing is full of complexity and love and anguish and sacrifice.
Her journey to ultimately accepting her gay identity – and realizing that in order to live freely as herself there is so much she has to give up – is heart-wrenching but hopeful.
Luma learns to forge her own identity. She discovers who is truly with her and who is not. She expands her understanding of family and both welcomes love from others and protects voices that are newly vulnerable.
Ultimately, From Here is a story about finding home."
Steph, 4/10/23, Goodreads.com
"FROM HERE is a moving memoir about growing up in Jordan as a member of the LGBT community. The book begins with Luma reflecting on her past with her daughter, and the complicated feelings she holds towards her family and the country where she grew up. It then travels back to her childhood, bringing both the good and bad stories about her youth, painting the picture of her family and all the things she loved – which she eventually had to leave as a refugee to the US to live her life with the love she wanted.
What I loved: This was a really moving and emotional memoir that pulls the reader in right from the start. There were things that made me laugh, cry, and feel all the feels as we experience Luma's life alongside her. Her past was not all bad – nor was it all good, and Luma does not shy away from portraying it all. The book is told almost in a series of stories, allowing the reader to understand what her childhood was like and the key people in her family. There was nothing simple about her choice to try to remain in the US.
I don't want to say too much about this book as it is a memoir, but there are some important lessons about religion, kindness, family, understanding, found and origin family, and being a refugee that are presented emotionally and poignantly through Luma's own life experiences. This would be a great pick for YA readers to delve more into other experiences and consider these many elements that are still powerful politically today (eg, the refugee immigration system). This is a really consuming read, and the pages turn quickly.
As a warning, there is content that may be tough for sensitive readers, such as suicidality/mental illness, homophobia, racism (especially in the wake of 9/11), misogyny, questionable relationships, animal death, and family estrangement.
Final verdict: FROM HERE is a moving and emotional memoir about a woman's growth and journey to finding a place to belong. Highly recommend picking this one up alone or as part of a book group.
Please note that I received an ARC. All opinions are my own."
Olivia, 5/10/23, Goodreads.com
The author recounts her childhood in Jordan, where she realized both that she was gay and also just how dangerous it would be for her to stay in her home country. She shows how it was both heartbreaking and absolutely necessary for her to leave her family as a young woman and to seek asylum in the U.S. While she is honest about her fear, I found her actions brave. The way that she has chosen to foster community alongside other U.S. immigrants is inspiring.
Laura, 5/9/2023, Goodreads
Thank you PenguinTeen and NetGalley for a eARC, all opinions are my own.
Holy shit. I didn't go into this book with many expectations to be honest but I was blown away as I resonated with so many parts of the story.
Thank you for sharing your story, Luma. These type of stories are so important especially to young queer BIPOC folk who don't have accepting parents. Thank you for showing me that I'm not alone in my struggles and showing me that it's possible to have the life you want despite the circumstances you come from.
Grey, 4/19/23, Goodreads.com
Absolutely loved this queer memoir from Luma Mufleh.
This is all about accepting your sexuality, even when it directly goes against the religious beliefs of your family. In the case of Luma, homosexuality is punished by death where she grew up, so she truly had to leave everything behind to be true to herself.
I truly felt moved by her story, and related a lot as I also grew up queer in a religious family, though thankfully have always lived in a country without laws against being queer.
A moving and heartfelt story.
Kathreadall, 3/6/23, Goodreads.com
A very moving coming of age memoir from a queer Muslim woman who recounts growing up in Jordan, her mental health struggles and her decision to seek asylum in America, knowing it would mean cutting ties with her family.
The author does a great job explaining the Muslim Arab culture she grew up in as a 1980s teen witnessing honor killings for women who so much as looked at a man not their husband or relative. As a lesbian, she didn't know who she could trust to come out to and feared for her life, even attempting suicide at one point.
Recommended for fans of other queer Muslim memoirs like We have always been here by Samra Habib, Hijab butch blues by Lamya H or Love is an ex-country by Randa Jarrar. Many thanks to @prhuaudio for a complimentary ALC of this book that was excellent on audio read by the author herself. (4/10/2023 GoodReads)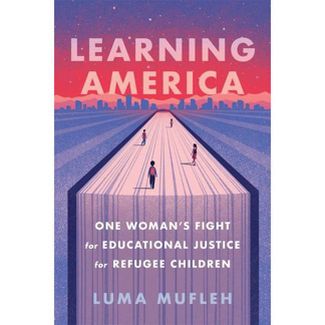 About Learning America and Luma Mufleh
A visionary leader's powerful personal story and a blueprint for change that will inspire schools and communities across America.
Luma Mufleh – a Muslim woman, a gay refugee from hyper-conservative Jordan – joins a pick-up game of soccer in Clarkston, Georgia. The players, 11- and 12-year-olds from Liberia and Afghanistan and Sudan, have attended local schools for years. Drawn in as coach of a ragtag but fiercely competitive team, Mufleh discovers that few of her players can read a word. She asks, "Where was the America that took me in? That protected me? How can I get these kids to that America?"
For fans of Malala, Paul Tough, and Bryan Stevenson, Learning America is the moving and insight-packed story of how Luma Mufleh grew a soccer team into a nationally acclaimed network of schools – by homing in laserlike on what traumatized students need in order to learn. Fugees accepts only those most in need: Students recruit other students, and all share a background of war, poverty, and trauma. No student passes a grade without earning it; the failure of any student is the responsibility of all. Most foundational, everyone takes art and music and everyone plays soccer, areas where students make the leaps that can and must happen – as this gifted refugee activist convinces – even for America's most left-behind.
This needs to be read by everyone….not just policy makers and educators.
As an educator, I understand that the brain connects to stories rather than graphs and charts. So many of the stories in this book are permanently etched in my mind. The day after reading it, all I wanted to do was to tell Luma's stories to everyone I encountered. There was the time that Luma went for a short vacation to visit friends. A member of her Fugees Family was nervous about her leaving and so she gave him her prized orange Swatch to wear until she returned. Stories about how the Fugees cultivated a sense of community have also stuck with me. Some of Luma's teaching methods seemed counter to the "best practices" I had learned as an educator. Smiley faces on every piece of work are definitely not part of her repertoire. Instead, she believes in holding each student to the highest possible standards. And with this comes the ability to admit publicly that one is failing and needs help. "Best practices" would say NEVER do this as it embarrasses the student. When talking about report card sharing, Luma says, "When we make something secret, we make it shameful." Luma's methods are based on a strong foundation and a belief in her students and their ability to help one another both on the soccer field and in the classroom. After reading about two missing iPads from the school, I was blown away by the effective way that the school community worked with the student who had taken the iPads.
I learned that it takes 4-6 years of total immersion for students to become comfortable with a new language. I learned that the public schools do not know what to do with refugee students…kids who at age 12 have never gone to school. I learned that I cannot walk in someone else's shoes…even though I feel empathetic. I learned that Finland, Singapore, and Ghana are way ahead of us in training educators. I learned how important sports and the arts are to every curriculum. I marveled at the way Luma weaves her personal struggles and her rich family life into the story. This needs to be read by everyone….not just policy makers and educators.
Carol and David, 4/6/22, amazon.com
An inspirational book!
Luma Mufleh has written an inspiring book that demonstrates how one determined woman can make an incredible difference in this troubled world.
Gandhi said, "Be the change you want to see in the world." That's what Coach Luma has done and continues to do.
I highly recommend this book to all educators who are ready to think outside the box.
Steve L., 5/14/23, amazon.com
Luma's story is what this country should stand for.
Loved this book. This is what America should stand for. Success is one person at a time. And a woman who persisted.
Ralph, 8/9/22, amazon.com
Engrossing read
This is an engrossing read with lessons for all American schools about what students need to feel secure and thrive. Mufleh is an expert storyteller, weaving together eye-opening personal anecdotes with broader policy issues and the philosophy behind the Fugees Academy. This is a book that will cause you to think very deeply and stay with you long after you have finished it.
Dee-Ann Durbin, 4/11/23, amazon.com
Insightful and engaging
Mufleh's heroic work has helped hundreds of refugees and their families. But her insights into U.S. schools and their failings are important reading for anyone who cares about education. It is a well-crafted and insightful read
Anadama, 5/5/22, amazon.com
The brutal truth balanced with hope
This book tells the harsh realities and themes of the refugee experience, while giving light and hope for reform and change. Luma's dogged determination to address issues of inequality and failing educational systems is inspiring.
Chelsea Wilkerson, 5/5/22, amazon.com
Education can be improved! Luma did it!
Luma Mufleh is inspiring. The book will touch your heart and mind in ways that make you want to help revamp education for every child!
Jimmy, 4/22/22, amazon.com
Powerful and personal
Wow. Months after reading it, I still think about this book all the time. Through the use of powerful anecdotes and imagine-if scenarios, Mufleh opened my eyes and deepened my understanding of the refugee experience. She stays away from cliches — the stories she tells are nuanced, relevant, heartbreaking and even funny at times. Things you would never think about unless you sat down and spent hours talking to someone with lived experience. The book underscores the dire need to reimagine how we welcome and support young people who come to this country when they are forced away from home, particularly when it comes to education. It's a fast read, with relatable, fast-paced, and unpretentious writing, and masterful storytelling throughout. I devoured it over just a few days.
Ellen, 9/13/22, amazon.com
A MUST Read!
Luma is not only a wonderful writer, but an amazing human being. Her story radiates from the pages and you have no option but to feel the passion and energy with each sentence. I was left wanting more of the story, more of the success and the good in the world. Luma saw a need and tackled it at full force. I thought to myself so many times while reading, "what if even 25% of the world had this drive and ability follow through?"
I don't read books twice, but this one is an absolute exception.
Danielle, 9/15/22, amazon.com
The Hard Truth
WOWWWW!!!!
This book was such an amazing read. The telling of Luma Muflehs story and her journey to where she is today and how she has impacted so many refugees lives for the better is so amazing. This book was a huge eye opener to our American school systems and how so many students, especially those new to our country, are overlooked and go without support. It's no surprise that there's a trillion flaws in our school systems but every chapter of this book just goes to show that there are so many things we can do to improve it. There's no sugar coating in this book, you will know the true struggles of most if not all refugees, and how much they have overcome. I was on the verge of crying numerous times throughout this book, and I'm soooo glad I read it because the stories in here are those that are kept unseen from the public eyes, the stories that can't be described in a 2 minute news story.
I received this book as a Goodreads giveaway and am only a substitute teacher and thought this would be a great read for me. This book will now 100% stay with me forever and be in the back of my mind when I work at the schools. I HIGHLY recommend this book to ANYONE working in the school systems no matter what job/role you play. Luma Mufleh you have my deepest respect for everything you've done.
Destiny, 5/6/22, amazon.com
Inspirational, gritty, true to life
I loved this book.
As a former ESL teacher immigrant and refugee issues are always on my radar, and can feel insurmountable. It is such a beacon of hope to read of an individual who sees, cares, and makes such an impact on the lives of numerous vulnerable children.
Deborah Stevens, 6/15/22, amazon.com
My coach, Luma, is a remarkable person and you should read her book!
I attended the book event today (April 5th). It was amazingly great! As an Arab female from Syria and being a refugee in USA I can relate to her personal story and the book she wrote. Sometimes you don't have the opportunity to go out and spread awareness on issues that are occurring. Having some so brave like Luma Mufleh addressing problems that you're concerned about is so great. I hope that everybody reads this book at least one time in their life to understand refugees more.
Aya, 4/6/22
Read this!
This book is rooted in powerful storytelling that also allows you to get a glimpse of the immigrant experience in America's public education. I couldn't put down this book, it made me laugh, think critically, and even felt scary at parts. The writing was so powerful and beautiful, anyone would enjoy this read!!
tryingtohelpu, 8/1/22, amazon.com